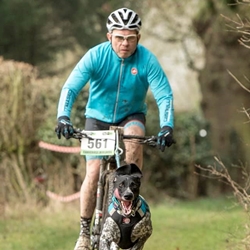 Alan Sherwin - I live in Leamington Spa with my wife, Elaine, also on the committee, son Jonathan and our 11 dogs of which 6 compete in harness sports.
Dog sports for myself started with Agility which I competed for 15 years at all levels including Championship. I have competed in harness sports for 6 years starting with Canicross & more recently moving to Bikejor and have been lucky enough to represent team GB 5 times in Europe.
I have been on the committee for 4 years, the last 3 as the Chairman. As Chair my responsibilities are wide and varied from finding new venues for races / social runs to buying the sweets we all enjoy in the tent at race weekends. I am responsible for operating the chip timing system and producing the results, producing the start lists and the general smooth running of race weekends.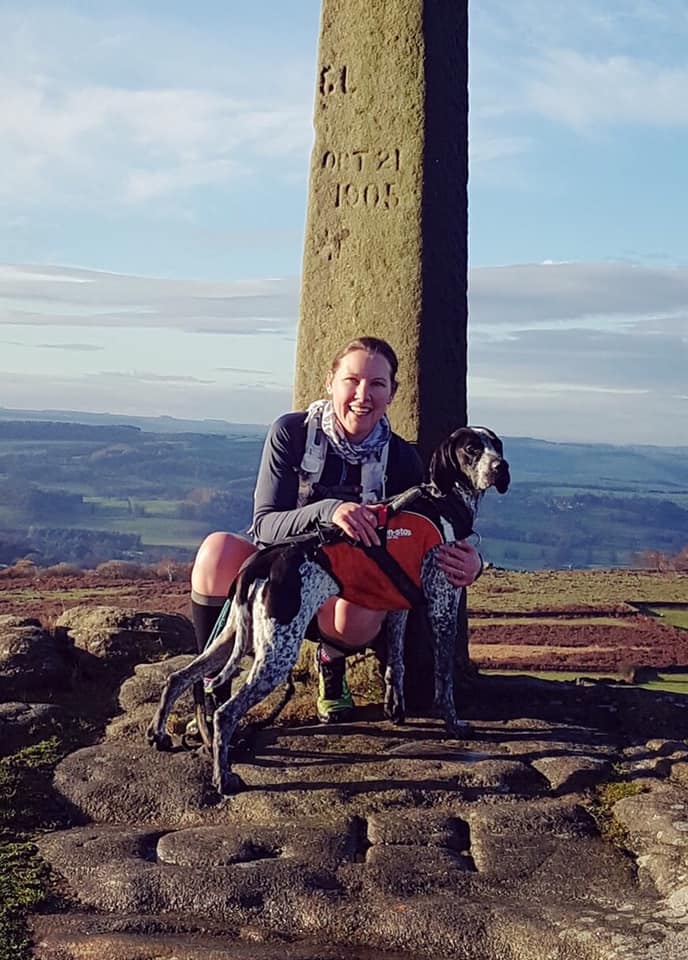 Anne Carter - As a complete non-runner, I started canicrossing around 10 years ago with a friend's spaniel and became addicted, then over 7 years ago, took on a rescue crossbreed (Murphy) to have my own canicross dog. I am now owned by 4 dogs, 3 pointers and a crossbreed. I started bikejor 2 years ago and love it even more than canicross. As a canine scientist I have managed to combine my passion for canicross with my love of research and I have been working with Canicross Midlands over the past few years to better understand heatstroke risks in dogs. I will be helping with any issues relating to Canine Welfare.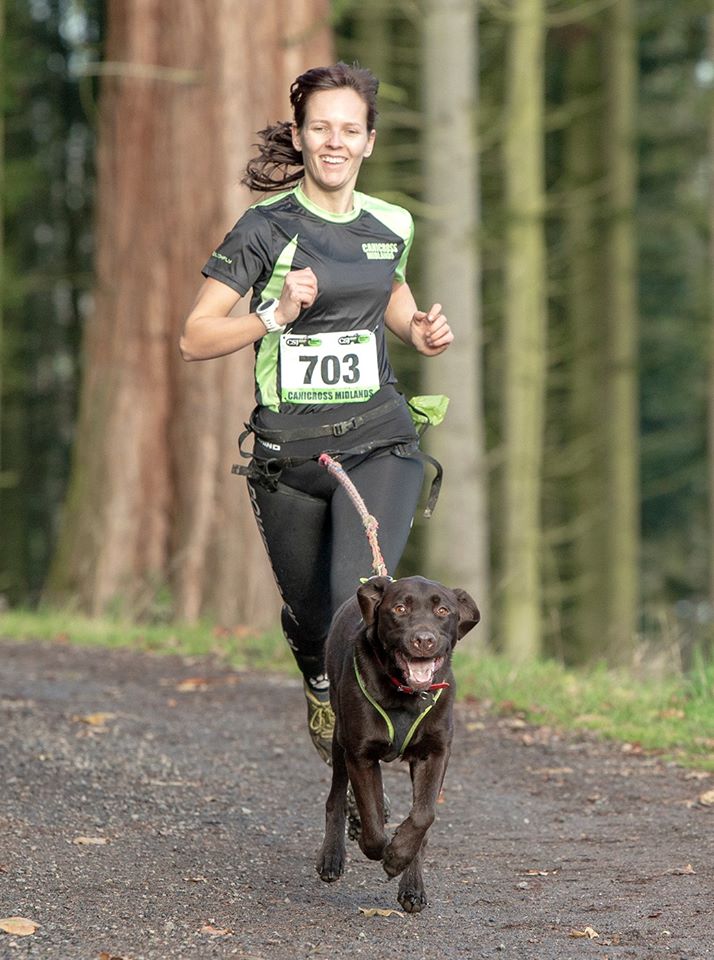 Becky Brown - I started canicross 4 years ago with my chocolate labrador Bale. We race for fun more then competition and will go through every puddle or stream possible. I occassionally run my Bichon and have a new puppy who will be my future canicross partner. I studied Art & Design at university and will be using those skills to help with any design elements needed and to keep the Social Media pages updated.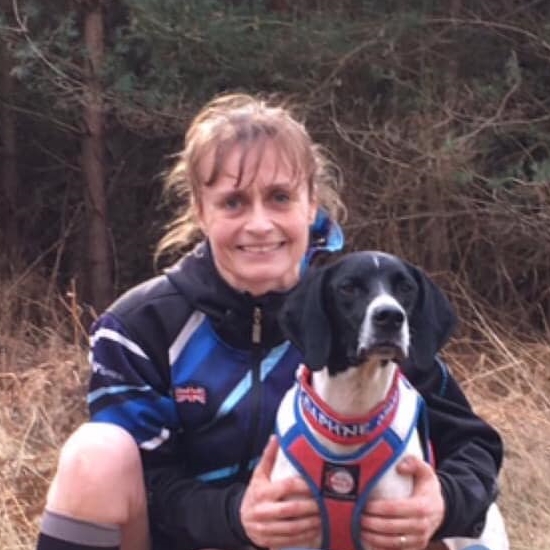 Elaine Sherwin - Having grown up with dogs, Labradors & Spaniels, I moved towards Pointers in 2001 because of their temperament, athleticism & looks, competing in agility with them for about 15 years before moving more to harness sports. 
I currently have 11 dogs, 6 of whom currently compete in harness sports - 3 Working bred 'pocket rocket' Pointers & 3 Purpose bred Pointer X's. My dogs are my world & are first & foremost totally adored family pets. When they go in harness they love it & run with power & passion, I feel very lucky to have such amazing running partners who have allowed me to reach to the stars in Canicross,.representing GB in Europe & gaining 5 individual European medals,competing in the UK gaining 6 national medals since 2011 along with my husband & 13 year old son.
In Canicross Midlands my responsibilities include helping my husband with all the running orders at races, I also organise our unique Magic Mile time trial & this season will specifically be helping the Novice competitors feel confident for their races & answer any questions they may have before & after their race.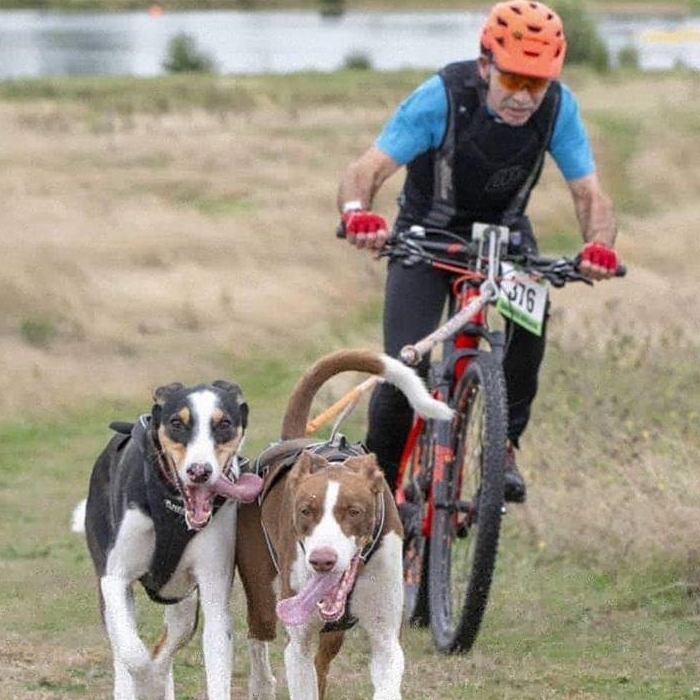 Gordon Graham - I own 4 rescue Spanish Podencos and a Borzoi, and I bikejor with 2 of the Podencos. Age need not hold you back, I turned 70 this year!
I'm also involved in setting the courses on a Friday and taking down on a Sunday and repacking the trailer in an organised fashion. A joiner by trade, I do a lot of the 'odd jobs', such as fitting out the trailer with racking, running repairs around the course, and supplying all the posts for the course arrows!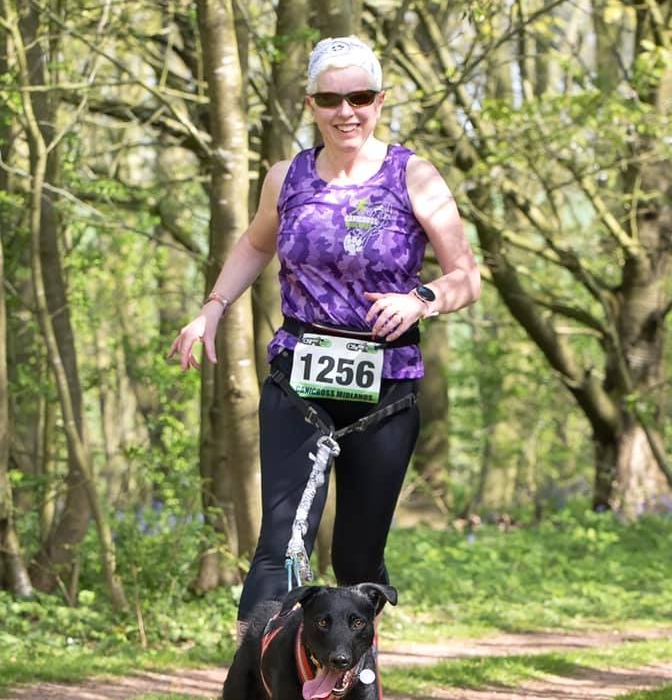 Helen Dempsey - We currently have a family of 7 rescue dogs (four Spanish rescues, two terriers and a springer cross ranging from 17 years to 16 months old) and three of them currently Canicross and we're hoping introduce the new lad to harness.
I've only been running four years and it all started through Canicross Midlands.
In my "spare time" I am an accountant working in the NHS and I am the Club's Treasurer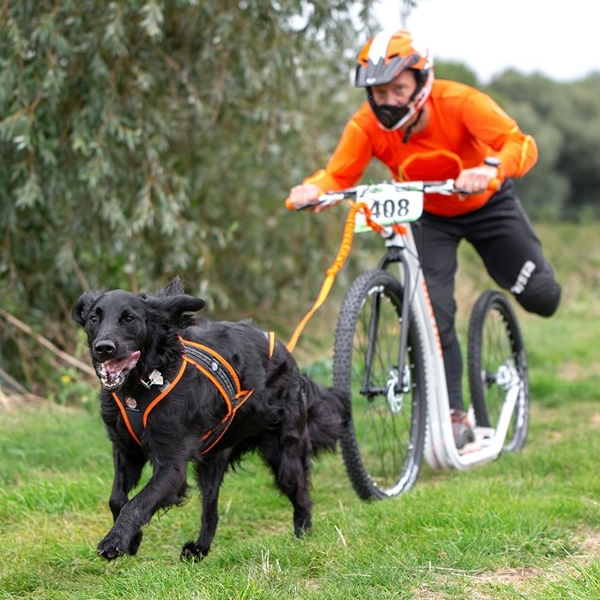 Iain Bowes – I originally got involved in Canicross Midlands in 2014 when my wife, Lisa, started to Canicross and I volunteered to help marshal. Since then I've continued to lead the marshalling team, event safety and set up courses. 
We have 5 dogs in the family and since 2017 I've been pottering round on the scooter.
I'm the club's Membership Secretary, Chief Marshal and support our technology solutions (event entry systems and web site) but in the real world I lead regulatory compliance for one of the UK's major mobile networks.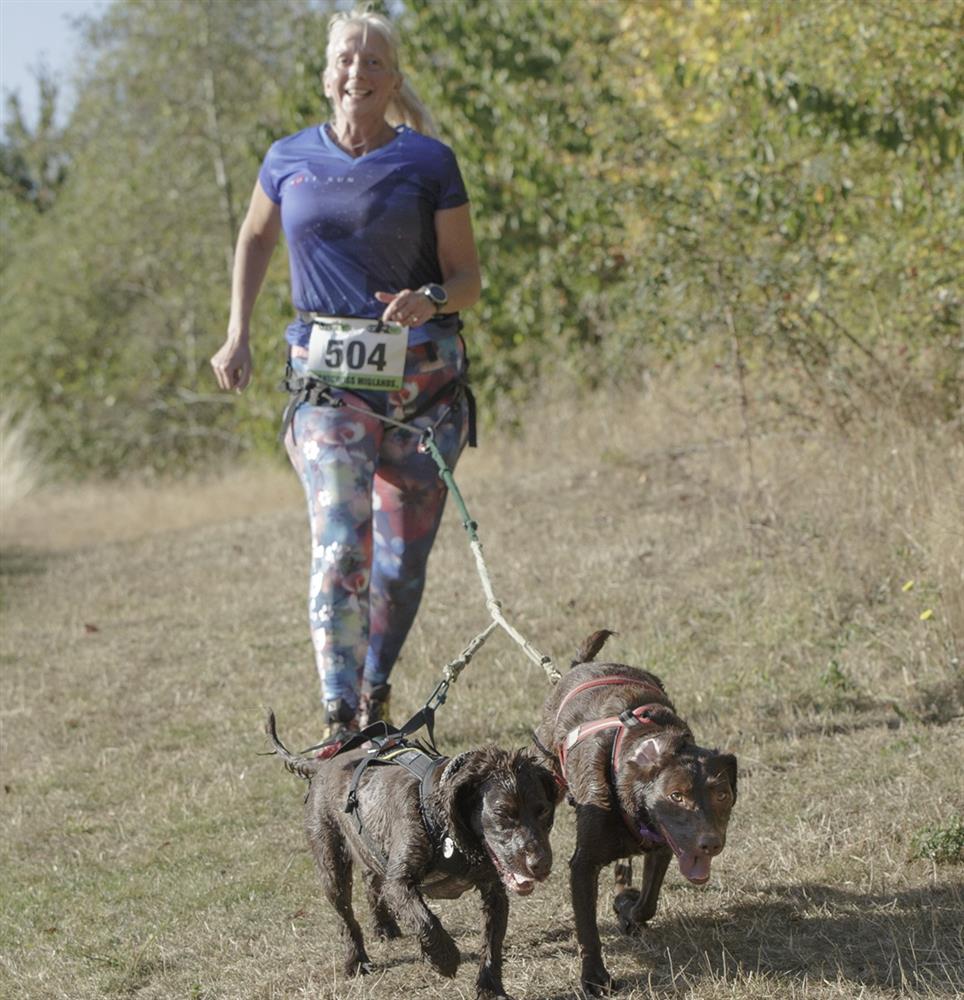 Lisa Bowes – I started running with my cocker spaniel, Coco, in 2012 as a way to use up some of his boundless energy. I discovered Canicross Midlands in 2014 and started running and participating the club's race events. I generally run a two dog team with Coco & Erin, along with a bit of Bikejor now and again.
Between us we have 5 dogs in the household, between myself, my husband (Iain) and my daughter (Kira) we participate in Canicross, Bikejor and Scooter.
I have recently stepped on to the committee in the role of Club Secretary.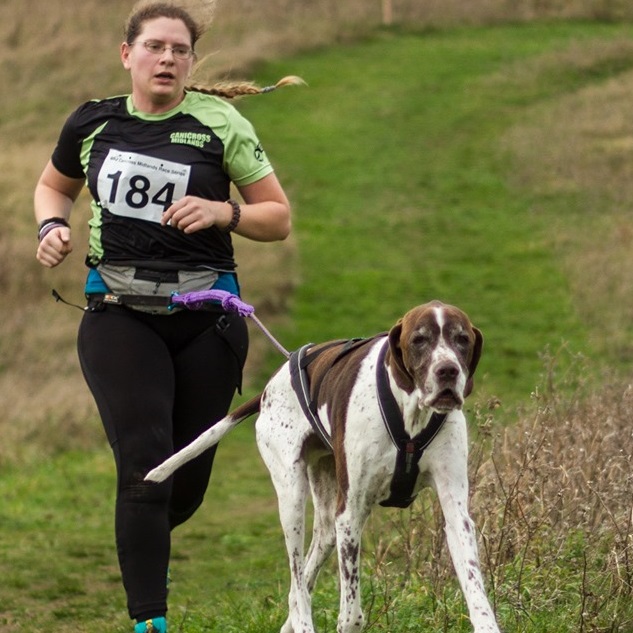 Lizz Fleming - I started running when I hit 30, having never been in any way sporty, and started canicrossing around the same time as it was the easiest way to take my dog along for a run.
I own the fabulous Bailey Pup and he started canicrossing at 8 years young, taking to it like a duck to water, and retired when he was 11
I have been running the Coventry and Warwickshire group of the club since 2016. Everyone who knows me know I put a massive emphasis on canicross manners, etiquette and the welfare of any dogs under my supervision.
I have always worked with animals and have been running my own dog care business for nearly 10 years so my whole life really does revolve around the welfare and needs of other peoples dogs. It is because of this that I can often be seen at races with a random selection of dogs – all shapes, sizes and ages, some I run with, some not, but all are very much-loved members of our extended pack!
I really enjoy helping people and LOVE talking all things dog so if you ever need help or have any questions, grab me for a chat!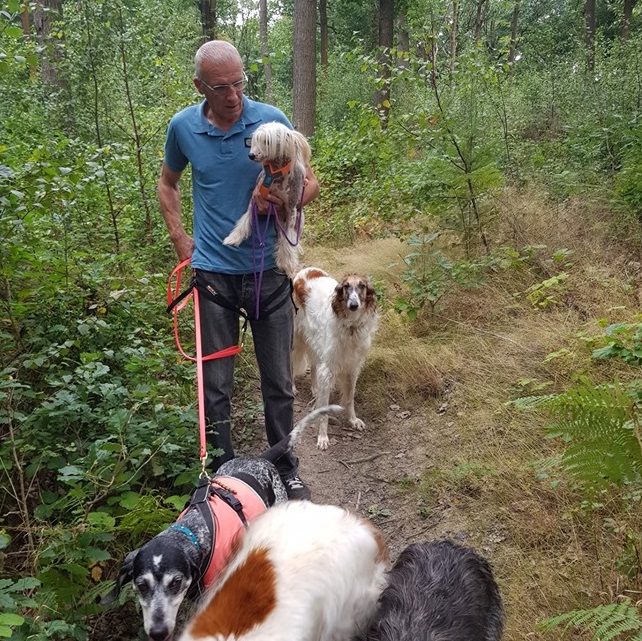 Mitch Rickson - I started canicross last year, basically still a novice I have competed in various Midlands events last season. Don't let that stop anyone asking me for help though, if I don't know the answer, I can find someone that does!
I am currently part of a 9 dog family and work alongside my partner who is a well established member of Canicross Midlands and has been since it began.
I am, like most recently inducted members, learning more every day and will be more than willing to help you on your journey into the wonderful world of 'Canicrossing'..welcome all.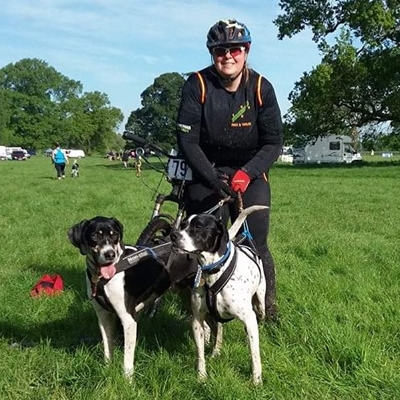 Ruth Graham - I have 9 dogs, 4 of which race in various disciplines, but I usually bikejor with two Trailhounds. I've been racing for about 6 years, and have been included in the British team and raced the Trophée Sud Bourgogne in France with Puck the Pointer.
I have been involved with Canicross Midlands since it was started in 2013, and have been on the committee for about 4 years.
I look after the club trailer, in storage and towing it to events. I also mark the course out on a Friday, collect it in again after racing, and ride the course before racing each day to ensure its marked correctly to race on.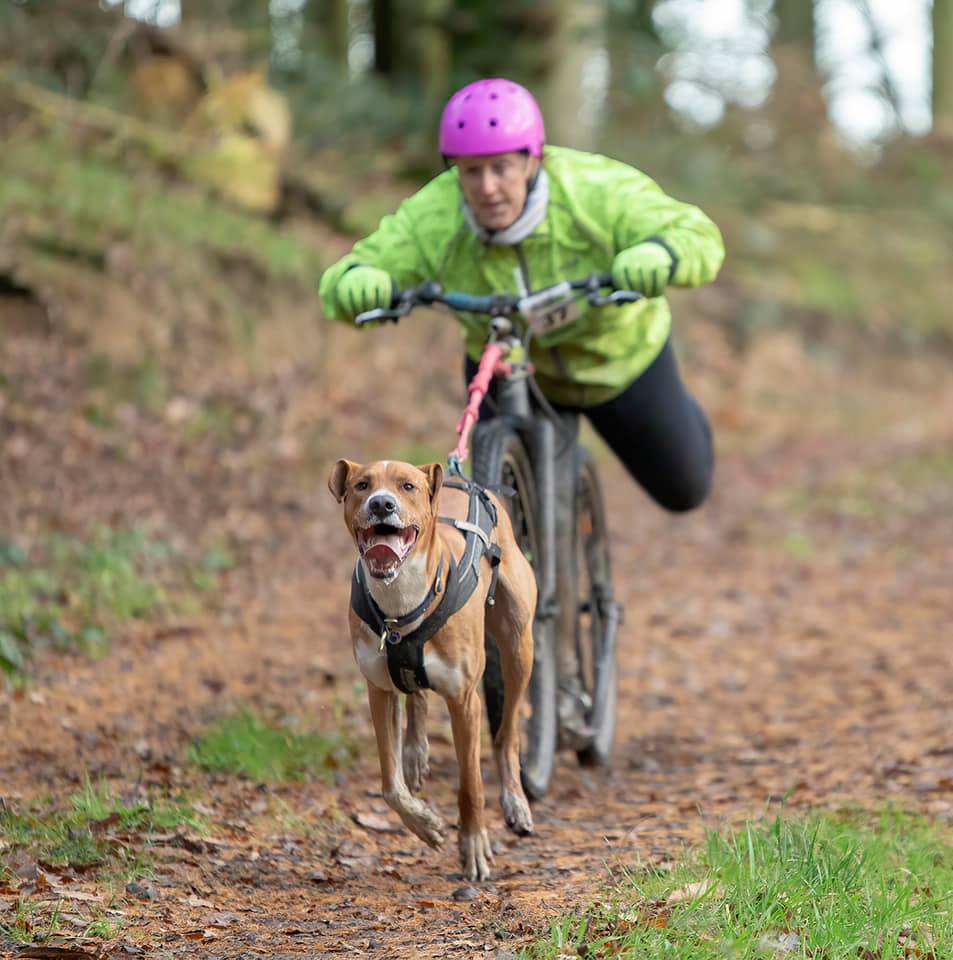 San Clark - I am the clubs Safeguarding & Child Welfare representative.
I started canicrossing over 10 years ago and moved on to scooter 3 years ago. I love the thrills and spills of scooting with my wonderful Eurohounds and as many of you know, I enjoy the mud even more than I love winning. The mud = fun = san-smiles. Away from Canisports, I'm a sports massage injury therapist and in my spare time I can been seen galloping across the welsh mountains in South Wales on my horse. This is my 3rd season with Canicross Midlands.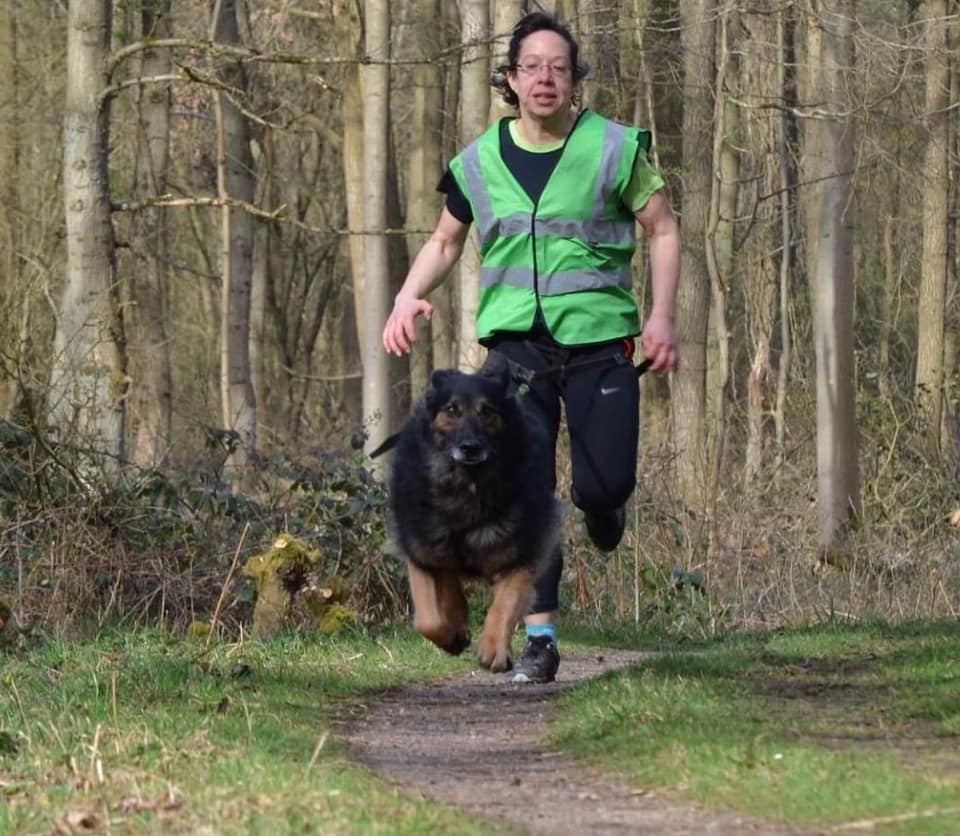 Tracy Evans - I am one of the founder members of the club and have been part of the committee since the planning days. I got into canicross thanks to my rescue GSD x Husky Oscar; Oscar helped me loose 4 stone and organise training runs in Lincolnshire between 2013 -2019. Oscar and I have canicrossed and bikejored in national and international races, and have competed up to half marathon distances, as well as participating in a canicross relay of ultra-distance covering 16 miles. Unfortunately, Oscar was attacked a few times racing and lost confidence, which limited the types of courses he could comfortably run on. I have also completed at agility and obedience on the days Oscar felt like it. After 9 ½ years of racing Oscar has retired from competition and more recently I have been seen competing with my partners huskies, or my friends lurchers and pointer crosses.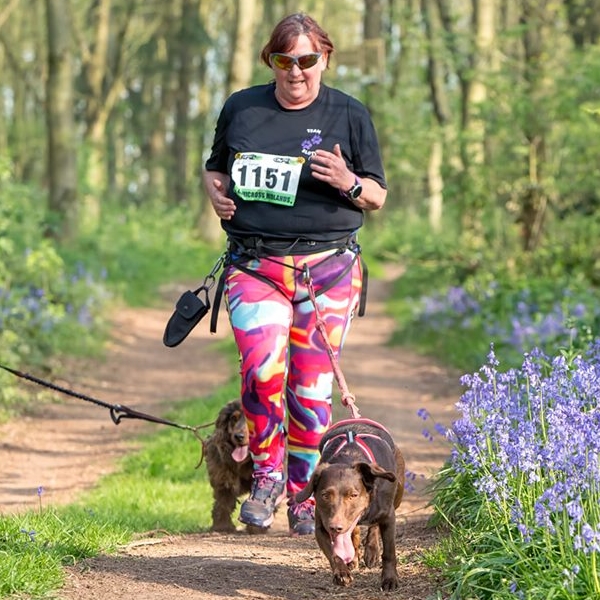 Wendy Clark - I run with my spaniels George and Bella, my team GB. Although I am also better known to friends as Team Sloth. I'm not the fastest or the fittest but I get there in the end.
I actually got into canicross through my sister Lisa & attending a CM series finale at Catton Hall and after a few pops around the bonfire I may have said that I'd like to try it with Bella. My sister entered me in the odds n bodds race the next day & I've never looked back. I love running with my dogs & my motto is usually last but usually smiling.
I am new to the committee & will be your Social Secretary & camping queen. Hopefully organising some get to togethers after all the racing has finished.