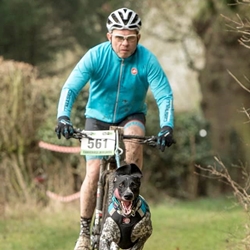 Alan Sherwin - I live in Leamington Spa with my wife, Elaine, also on the committee, son Jonathan and our 11 dogs of which 6 compete in harness sports.
Dog sports for myself started with Agility which I competed for 15 years at all levels including Championship. I have competed in harness sports for 6 years starting with Canicross & more recently moving to Bikejor and have been lucky enough to represent team GB 5 times in Europe.
I have been on the committee for 4 years, the last 3 as the Chairman. As Chair my responsibilities are wide and varied from finding new venues for races / social runs to buying the sweets we all enjoy in the tent at race weekends. I am responsible for operating the chip timing system and producing the results, producing the start lists and the general smooth running of race weekends.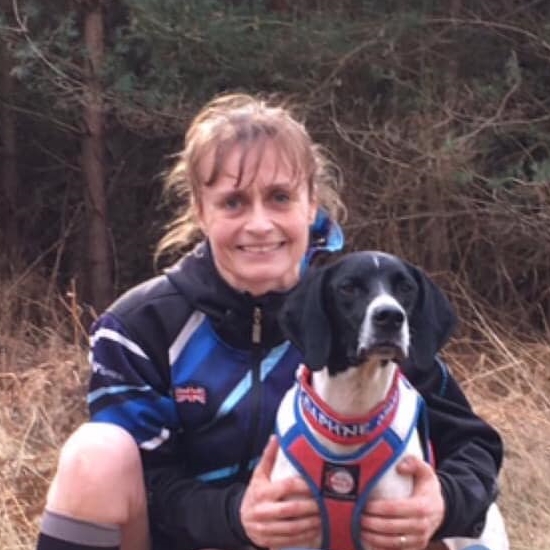 Elaine Sherwin - Having grown up with dogs, Labradors & Spaniels, I moved towards Pointers in 2001 because of their temperament, athleticism & looks, competing in agility with them for about 15 years before moving more to harness sports. 
I currently have 11 dogs, 6 of whom currently compete in harness sports - 3 Working bred 'pocket rocket' Pointers & 3 Purpose bred Pointer X's. My dogs are my world & are first & foremost totally adored family pets. When they go in harness they love it & run with power & passion, I feel very lucky to have such amazing running partners who have allowed me to reach to the stars in Canicross,.representing GB in Europe & gaining 5 individual European medals,competing in the UK gaining 6 national medals since 2011 along with my husband & 13 year old son.
In Canicross Midlands my responsibilities include helping my husband with all the running orders at races, I also organise our unique Magic Mile time trial & this season will specifically be helping the Novice competitors feel confident for their races & answer any questions they may have before & after their race .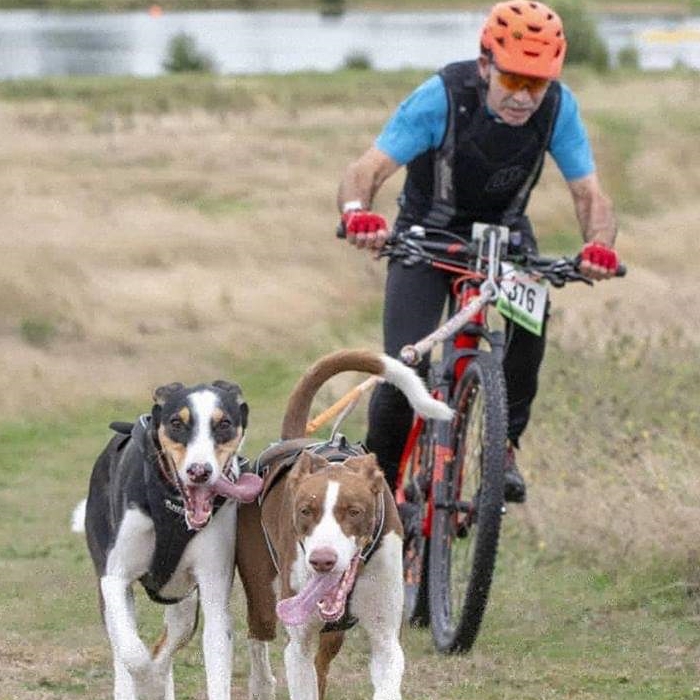 Gordon Graham - I own 4 rescue Spanish Podencos and a Borzoi, and I bikejor with 2 of the Podencos. Age need not hold you back, I turned 70 this year!
I'm also involved in setting the courses on a Friday and taking down on a Sunday and repacking the trailer in an organised fashion. A joiner by trade, I do a lot of the 'odd jobs', such as fitting out the trailer with racking, running repairs around the course, and supplying all the posts for the course arrows!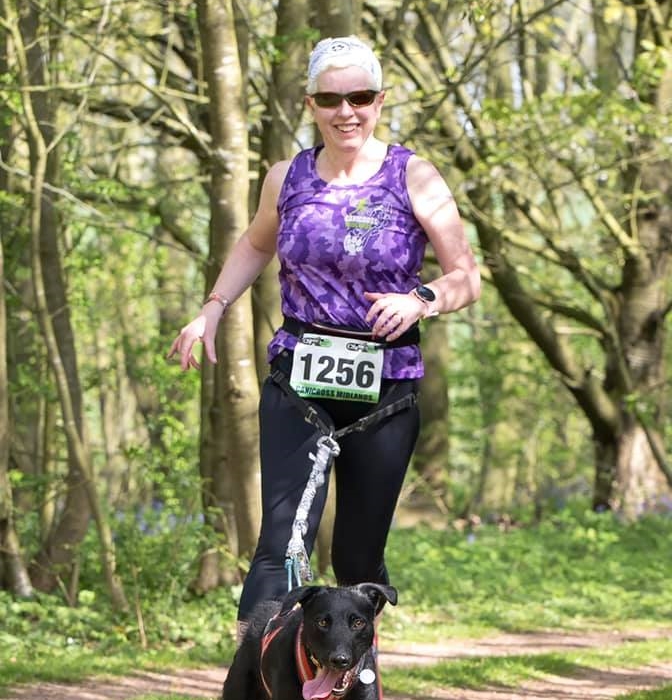 Helen Dempsey - We currently have a family of 7 rescue dogs (four Spanish rescues, two terriers and a springer cross ranging from 17 years to 16 months old) and three of them currently Canicross and we're hoping introduce the new lad to harness.
I've only been running four years and it all started through Canicross Midlands.
In my "spare time" I am an accountant working in the NHS and I am the Club's Treasurer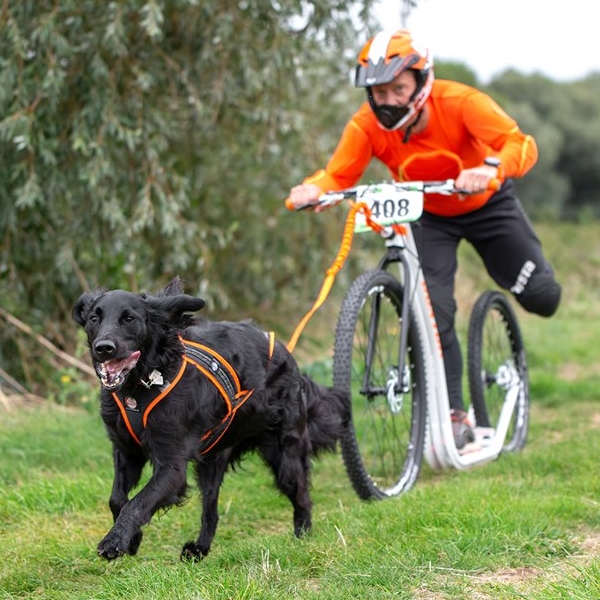 Iain Bowes – I originally got involved in Canicross Midlands in 2014 when my wife, Lisa, started to Canicross and I volunteered to help marshal. Since then I've continued to lead the marshalling team, event safety and set up courses. 
We have 5 dogs in the family and since 2017 I've been pottering round on the scooter.
I'm the club's Membership Secretary and support our technology solutions (event entry systems and web site) but in the real world I lead regulatory compliance for one of the UK's major mobile networks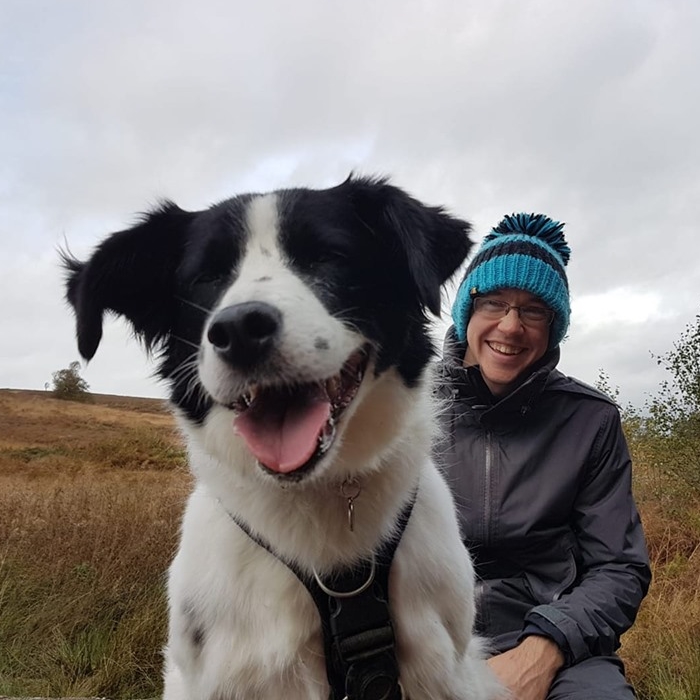 Rob Mace - I started canicrossing in 2012 after we adopted Molly and needed to find an outlet for her crazy and build her confidence.
I usually run Molly in the short course and borrow Axis from Claire to run the long course with.
I am the club's Safeguarding Officer and can usually be found at race weekends on the start line ensuring all competitors start their races in the correct order and on time.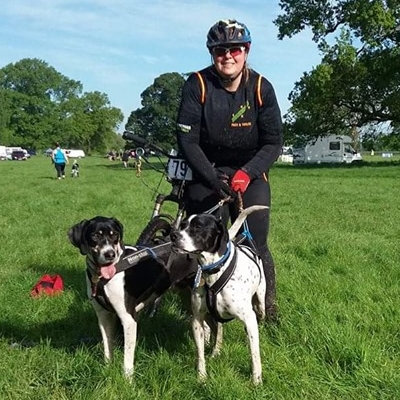 Ruth Graham - I have 9 dogs, 4 of which race in various disciplines, but I usually bikejor with two Trailhounds. I've been racing for about 6 years, and have been included in the British team and raced the Trophée Sud Bourgogne in France with Puck the Pointer.
I have been involved with Canicross Midlands since it was started in 2013, and have been on the committee for about 4 years.
I look after the club trailer, in storage and towing it to events. I also mark the course out on a Friday, collect it in again after racing, and ride the course before racing each day to ensure its marked correctly to race on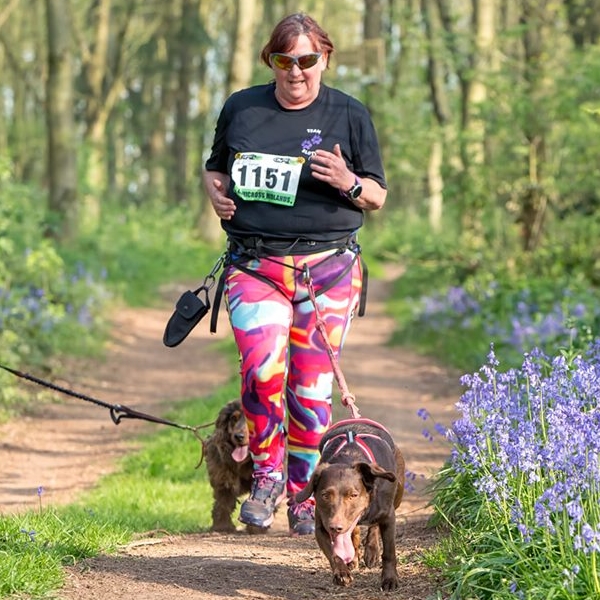 Wendy Clark - I run with my spaniels George and Bella, my team GB. Although I am also better known to friends as Team Sloth. I'm not the fastest or the fittest but I get there in the end.
I actually got into canicross through my sister Lisa & attending a CM series finale at Catton Hall and after a few pops around the bonfire I may have said that I'd like to try it with Bella. My sister entered me in the odds n bodds race the next day & I've never looked back. I love running with my dogs & my motto is usually last but usually smiling.
I am new to the committee & will be your Social Secretary & camping queen. Hopefully organising some get to togethers after all the racing has finished.